The Three Structural Shifts in the Executive Job Seeking Market - Part 1
There have been some structural changes in the job seeking marketplace that I want to explain to you. This is going to provide you with the 'aha moment', so pay super attention to this!
I'm going to take on a bit of a story about how things used to be, then i'm going to compare them with how they are today. We will look at the differences and how you can leverage them, to utterly dominate your job search.
If, like me, you are over 40 – we are the last generation to grow up without the internet.
We can all tell a tale of when there was no online. When, if we wanted to buy something, we would have had to go down to the shops. Because that's all there was. There wasn't an online alternative.
And we didn't have enough information about what we wanted to buy, so we would have to go inside the shop, wouldn't we? We'd have to speak to a sales assistant and however benign and professional that process was, it was a sales process.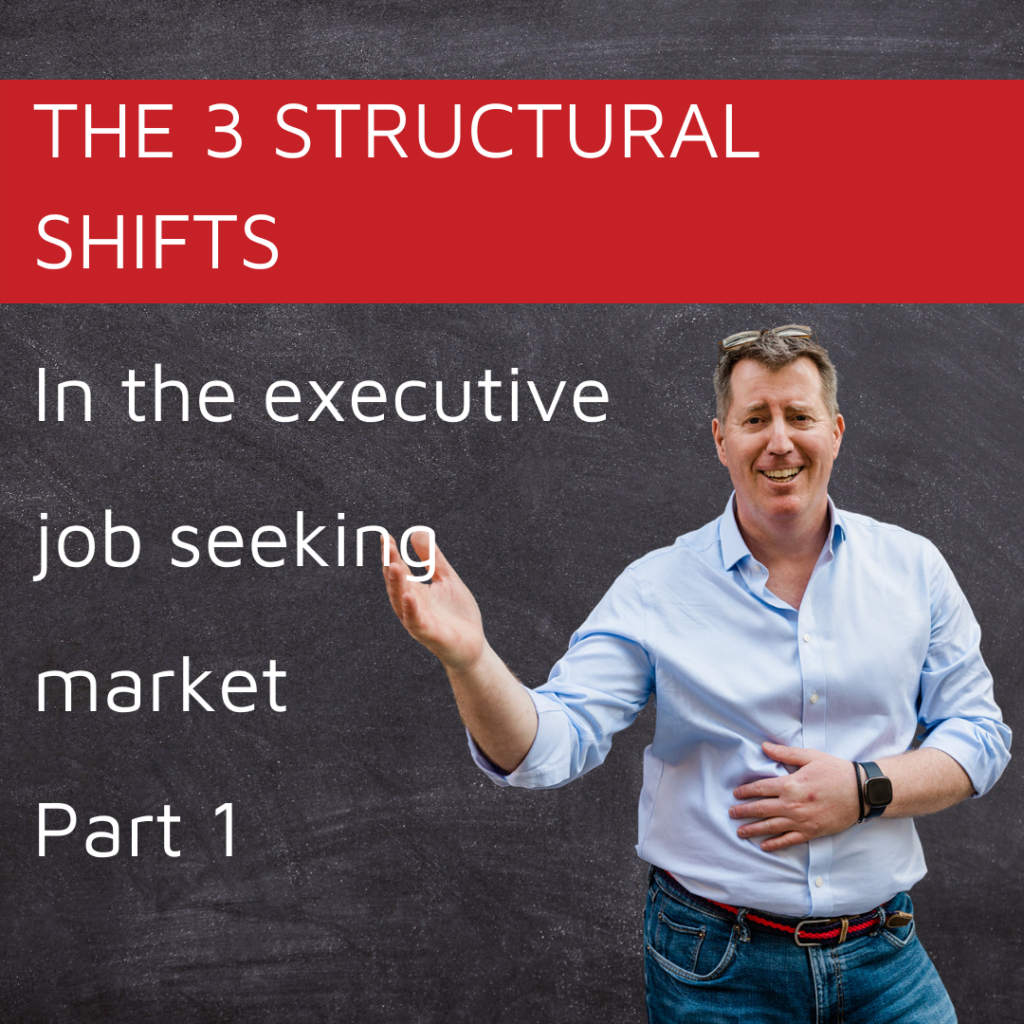 We were there talking to them, getting the information that we needed about whatever it was we wanted to buy, and at the end of that process they'd try and sell us something. Which is kind of what we went in there for anyway, so no big deal.
Zoom forward to where we are now, 21st century, post-internet era and all that – if you and I wanted to browse for stuff that we don't have full information on, we don't go to the high street anymore do we? No, we just jump straight online.
That's because all of the information that was exclusive to the salesperson, who we were dependant on in order to be able to make our decision has now been transferred to the internet, where we can access it for ourselves.
So we don't need a salesperson anymore, do we?
Whatever it was you were buying, let's just pick on some examples, TV's and holidays.
How heavy a TV can you hang on a UK stud wall? You can just get an answer to that form google, no problem there; What's the difference between LED and LCD? You can just download a PDF on that, (maybe you'll stick your email address in and get it emailed to you.)
If it was holidays; what's the sunny side of the hotel in the evening for your gin & tonic? You can get all that stuff from the customer reviews online.
You don't need a salesperson to start making decisions
Let's stick with TVs for the minute, and then we will apply all of what I'm talking about, to job seeking, which is what you really want to know about.
But it's important you understand these structural shifts in the job seeking market so you can make the change
You've found a TV you like, and it's got all the whistles and bells you want, so happy days.
You've now got to decide where you're getting it from.
That's when the marketing messages come into play. You get those adverts down the side of the screen, maybe you're getting them in your inbox as well.
Those adverts are going to say something like "click and collect and watch the big game this afternoon". If that marketing message appeals to you, then you're probably going to be an Argos customer. That's what that kind of message says.
Or it might say "Two years warranty instead of the standard twelve months", in which case you might be a Currys PC World customer, because that's the kind of thing they do.
It might say "exclusive model to us". (Actually, it's the exact TV you want. All they've done is change the plastic trim around the screen. Technically speaking it's exclusive). Plus, they'll deliver it in a big green lorry and park the lorry outside your house all morning where your neighbours can see it, while they install the TV.
Ok, you're a middle class snob and a John Lewis customer, (I won't tell).
So now you've decided not just what you want to buy, but also where you're getting it from. And depending on what you're actually shopping for, (it might not be a TV or holiday, it could be anything) you can ping your credit card details into the screen and it turns up in the post
But the point of telling you that story is this…
At no stage during that entire transaction did a salesperson even know you existed
They had no idea you were online.
No idea you were looking.
No idea you were about to buy something.
They had no ability to influence that transaction whatsoever. Didn't even know you existed.
In fact, it's no longer a sales process and it's no longer a sales world.
it's a buying process and it's a buyer's world
Now let's apply that to job seeking, which is what you really want to learn about.
the first structural shift..
The hiring manager is the buyer in our story, they are the one with the need, they are the one that's going to go looking.
You are selling yourself – "Hi, I'm great, here's my CV. Hire me." Possibly you've got a recruiter doing that for you too.
The hiring manager no longer has to run the gauntlet of a slaes pitch anymore. They just don't do that. If they are in the mood to buy, they'll buy.
Until then, will you stop hassling them with your bloody emails, with "I'm great, CV attached, covering email, blah blah blah". They don't want it. It's just clogging up their inbox with stuff they didn't ask for, don't want and is a waste of their time. What you're doing there is a sales process and is the wrong process for the hiring manager.
There is a process at play here, and the process at play is a buying process. And unless you're allowing the hiring manager to engage in a buying process, which is what they do for everything else, including TV's and holidays etc, then you are making it harder for them to hire you.
And you don't want to do that.
allow the buying process to take place. position yourself to be part of a buying process
the buying process is the first structural shift you must achieve
Do you recognise that it's a buying process now and selling yourself is the process for the hiring manager?
IF YOU WANT TO FIND OUT MORE ABOUT HOW TO GET YOUR IDEAL JOB FASTER AND FOR MORE MONEY, DOWNLOAD MY FREE GUIDE WHERE I SHARE HOW YOU CAN ACHIEVE THE GOALS YOU WANT