The Three Structural Shifts in the Job Seeking Market - Part 2
In my previous post (here) I introduced the foundations and the first structural shift in the executive job seeking marketplace.
The second structural shift is a super big one; if I was a hiring manager, I no longer have to advertise the vacancy.
Hiring Managers can start their buying process up, without declaring the vacancy at all.
They could look online, they could look on a CV board, they could look on LinkedIn, they could speak to their network offline, asking who they would recommend, and they could do all that without you even knowing they had a vacancy. They'd get to see several candidates and if they like one of them, they'll hire them.
Then they announce to the world that they have made a hire and you are like "What do you mean you hired someone; I didn't even know you had a vacancy! What the hell is going on there?"
It's called the hidden jobs market. It's not hidden, that's a misnomer. It's the unadvertised job market.
The hiring managers buying process is behind their screen – you can't see it happen, so you didn't know there was a vacancy there to sell yourself to.
That can be about half your market. And if you want access to those vacancies, it's not going to be through a sales pitch, because you can't sell yourself to something you can't see.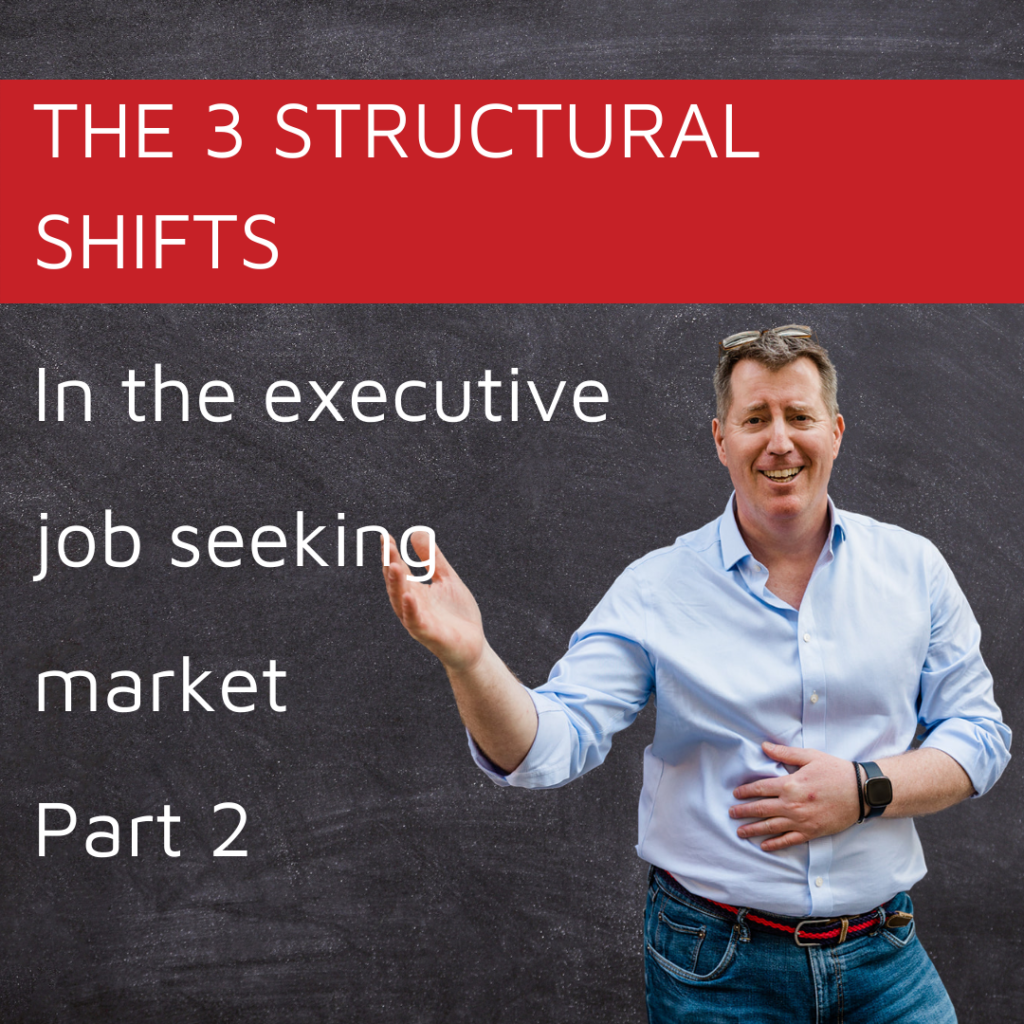 You have to allow yourself to be bought by the hiring manager instead. Only that way you will increase the size of the market available to you
That's the second structural shift in the job seeking market.
Can you see that a buying process unlocks the hidden job market, which helps get hired faster? Give me a yes if you can see that
The third shift is a thing called buyer-seller integrity.
This is huge, really pay attention to this
If you are involved in a transaction and there is a salesperson involved as well, if the salesperson thinks that what they've got, matches your needs 75% or better, then they will take a swing at selling it to you. That's what they do for a living, they are a professional salesperson, that's how they make their money, right?
However, if you remove the salesperson from the equation, as is the case online, where the salesperson didn't even know you existed, (remember we talked about that with TVs and holidays) actually buyers don't get excited by a 75% match. Hmm, it kind of does what you're after, but it's not exactly what you want, so you'll keep looking.
Actually, buyers get excited nearer 95%. That's when that 'oooh' sound appears. "Oooh, that's exactly what I'm looking for, how much is that?", that's when the buying conversation comes to the surface.
There's a disconnect between those two numbers isn't there? 75% match in sales and 95% match to needs on the buyers side.
That's explained very simply.
Salespeople are burdened with the responsibility of making money out of transactions. So of course they need to lower the bar as much as they possibly can, (I mean without being ridiculous. I think that if someone tried to sell you something that was only a 50% match to your needs, you would just laugh at them).
But at 75% match to needs, some customers do open their wallet, and that's when sales kicks up a gear.
However, on the buying side, buyers are not trying to make money out of a transaction.
Actually, they are trying to solve a problem, so they want that bar to be set as high as possible.
And again, without being ridiculous – I think if they just said "No, I'm not spending any money unless it's 100% perfect", that solution probably doesn't exist.
But a 95% match to their needs? There is a reasonable expectation that that solution does exist, so that's what they go looking for.
You are online, you are looking at a vacancy, you think well I can do 75% of that, I'd give that a go, I'm a talented person and I can work out the rest. Off goes your CV, "I'm great hire me". Do you know what? Buyers are not interested in a 75% match to their needs. Hmm, you're kind of what they were looking for, but not exactly what they wanted though, so they'll keep looking. You're not going to get an interview. You're not even going to get a look in.
So the corollary to that is this
If you want your ideal job and you want it faster, then you've got to
Present a buying process, (Read the blog here) as that's the process the hiring manager is using right now for pretty much everything in life, including hiring you.
Use it to access the unadvertised jobs market as it's where a greater quantity of vacancies are and 
When the buyer buys, (this is the important part), when the buyer buys, they are more discerning than when a seller sells. If you can position yourself properly, then the hiring manager will only contact you, if they perceive you to be a 95% match to the role. Which is when interviews get a lot easier.
An easier process for the hiring manager to choose you, for a dramatically increased size of vacancy market and is a much, much closer match at your interview. Who doesn't want that?
Stop selling yourself and get bought instead
Does it make sense that when the hiring manager buys, the quality of the interview goes up, which helps you nail it. Give me a yes if this makes sense
if you want to find out more about how to get your ideal job faster and for more money, download my free guide where I share how you can achieve the goals you want